We didn't see individuals, we saw their interaction and the communication between them
von Janet Bavelas
If one were choosing individuals at the MRI in the 1960's to work together, Paul and I would be a most unlikely choice. He was a sophisticated Austrian psychotherapist with a Ph.D. in languages and philosophy. I was from a small town in Oregon, a research assistant with a brand-new undergraduate degree in psychology from Stanford and some research experience. The only thing we had in common was the most important: seeing interaction. When we looked at people, we didn't see individuals, we saw their interaction and the communication between them. So when we watched family therapy sessions from behind the one-way mirror, we often noticed the same things or understood immediately what the other found fascinating. This is an important and validating bond in a cultural and intellectual world that sees individuals, and it set the course for my life's work.
There were three other important, more practical, influences. First, Paul had worked with Albert Scheflen, who was directly influenced by the Natural History of an Interview project (e.g., Leeds-Hurwitz, 1987), which introduced the microanalysis of communication. Microanalysis of face-to-face dialogue is the tool for studying communication in interaction that I continue to use today (Bavelas, Gerwing, Healing, & Tomori, 2014). Second, we shared a love of writing – from the big plan to grammar and vocabulary to admittedly obsessive editing. In retrospect, it is quite odd that he would take for granted we could plan and write Pragmatics of Human Communication together, especially that he would leave whole chapters to me, but it seemed natural at the time (see Bavelas, 2007). Third, collaboration became my natural way of working, and most of my research since has been with collaborators and research teams.
In 1966, around the time the book was finished, I left the MRI for graduate programs at Stanford in communication and experimental social psychology. I continued to work with Paul sometimes until I left for the Department of Psychology, University of Victoria, Canada. Paul followed his philosophy background and his Epilogue in Pragmatics into existentialism and what became constructivism. I followed my research background, searching how to make experimental methods fit face-to-face dialogue. This took quite a while and a lot of highly controlled studies rather than free interaction. Still, those projects covered many of the main topics of Pragmatics; e.g., disqualification (Bavelas & Smith, 1982; Bavelas, Black, Chovil, & Mullett, 1990), relationship communication (Bavelas, Black, Lemery, & Mullett, 1986), verbal and nonverbal communication (Bavelas & Chovil, 2000), symmetry and complementarity (Millar, Rogers, & Bavelas, 1984), and systems theory (Bavelas, 1975, 1978; Bavelas & Segal, 1982). These studies both supported and changed our tentative axioms (e.g., Bavelas, 1990; Bavelas & Jordon, article in preparation), which is after all the purpose of research. Our research with video-recorded, spontaneously interacting dyads began in the late 80's (Bavelas, Chovil, Lawrie, & Wade, 1992) and started a continuing program of research on face-to-face dialogue including, more recently, co-construction (Bavelas, Gerwing, & Healing, 2017) and psychotherapy (e.g., Korman, Bavelas, & De Jong, 2013). See Bavelas (in press).
In the meantime, the book we were told would go out of print quickly was instead adopted, translated, and is still being cited – thousands of citations. To appreciate the influence of this book, just notice the variety of disciplines in which it is cited. I knew our book is sometimes credited with helping create the field of interpersonal communication, and I was aware of its influence on family study, psychotherapy, psychiatry, and social work (but sadly never psychology). However, a review of recent citations revealed there were at least as many citations in business, computer science, education, medicine and nursing, and social media.
            In spite of its success, things have not always run smoothly for Pragmatics. In 2011, Norton published a paperback version without consulting me. It included an appalling Foreword by Bill O'Hanlon, who admitted only having read an outline of Pragmatics. This foreword was a collection of errors and anachronisms that criticized Paul personally and questioned our originality as the authors. See details at  http://web.uvic.ca/psyc/bavelas/Pragmatics_human_communication.html. As the only living author, I convinced Norton to get rid of the Foreword, which I believe they did. Before that change, I helped a book seller at a conference take action. When I explained the errors to him, he wrote and posted the attached sign, with copies of my list of errors. My approach was typical of a long-standing difference between us: my brash New World manner versus his mature Old World dignity. I think he would have smiled and shaken his head but appreciated my defense of our book.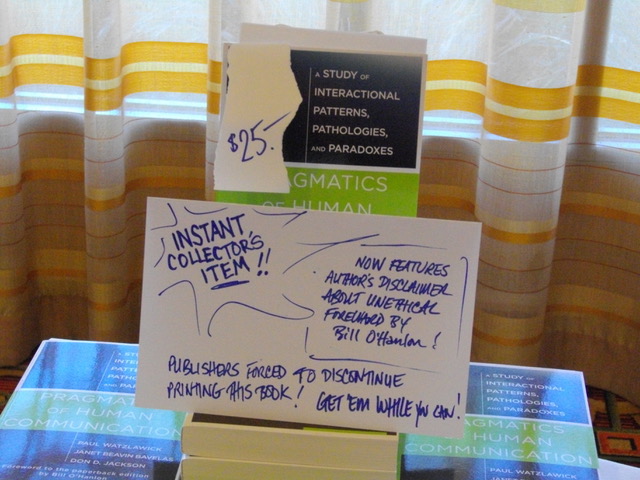 (Cited articles are at the above website.)
ZUR AUTORIN: Janet Beavin Bavelas, Ph.D., is an experimental psychologist whose research group developed microanalysis of face-to-face dialogue in order to study the close details of how dialogue works. Professor Emeritus at Univ. of Victoria, Psychology; she is co-author of "Pragmatics of Communication" (Norton, 1967) with Paul Watzlawick and Don D. Jackson